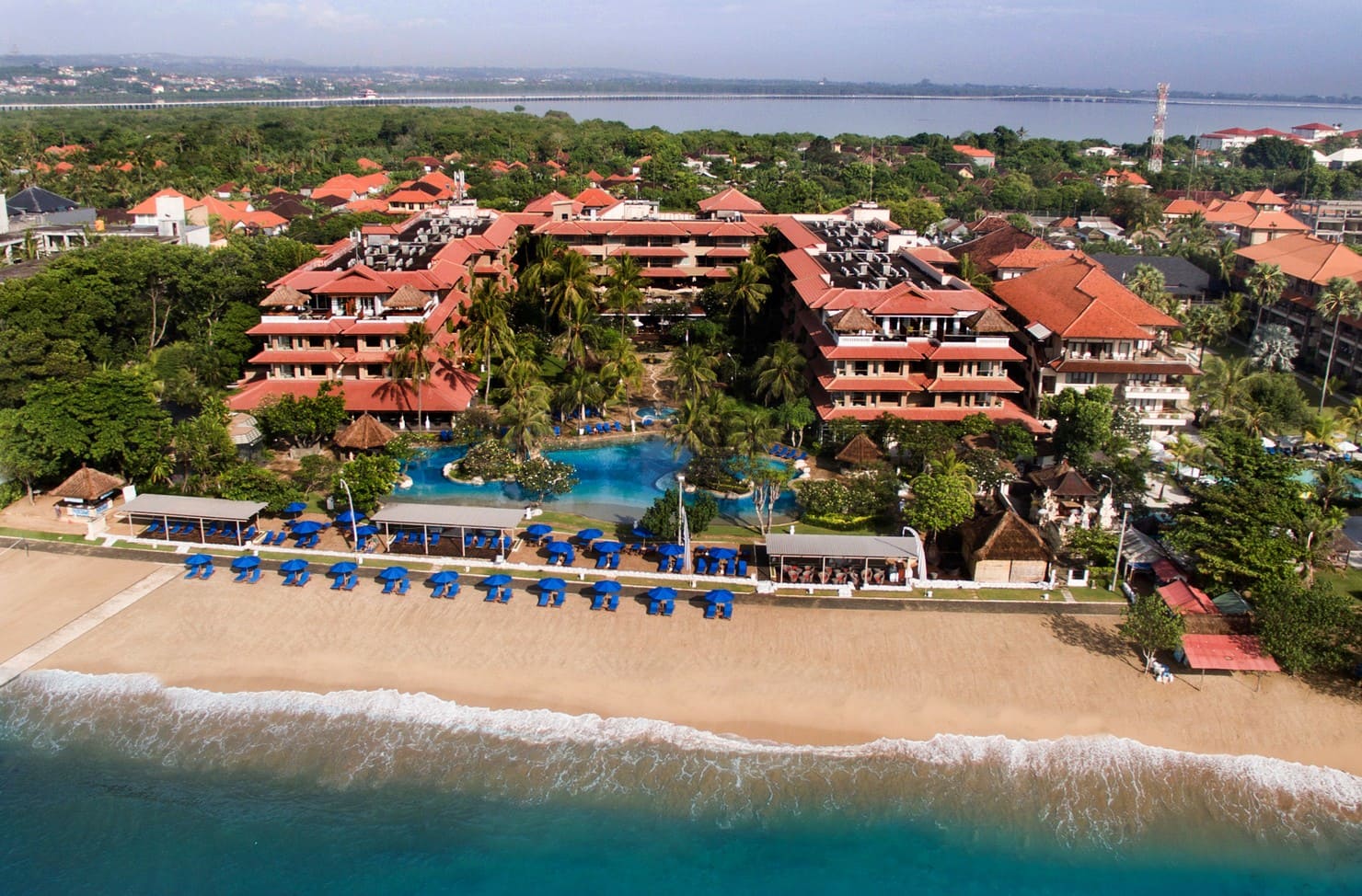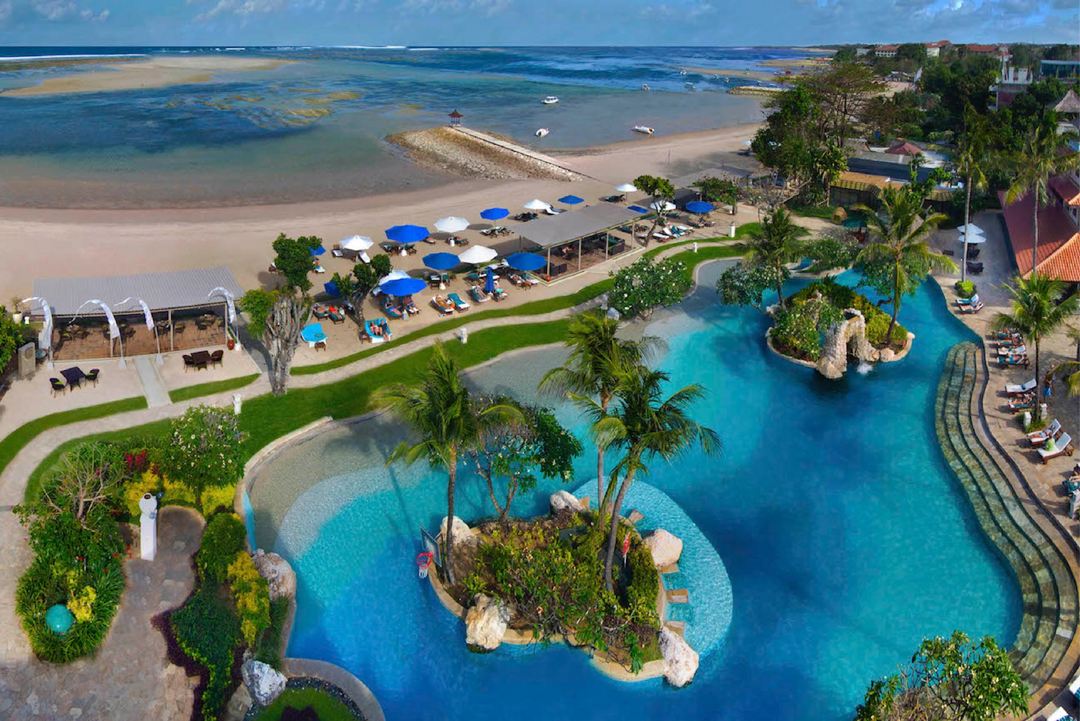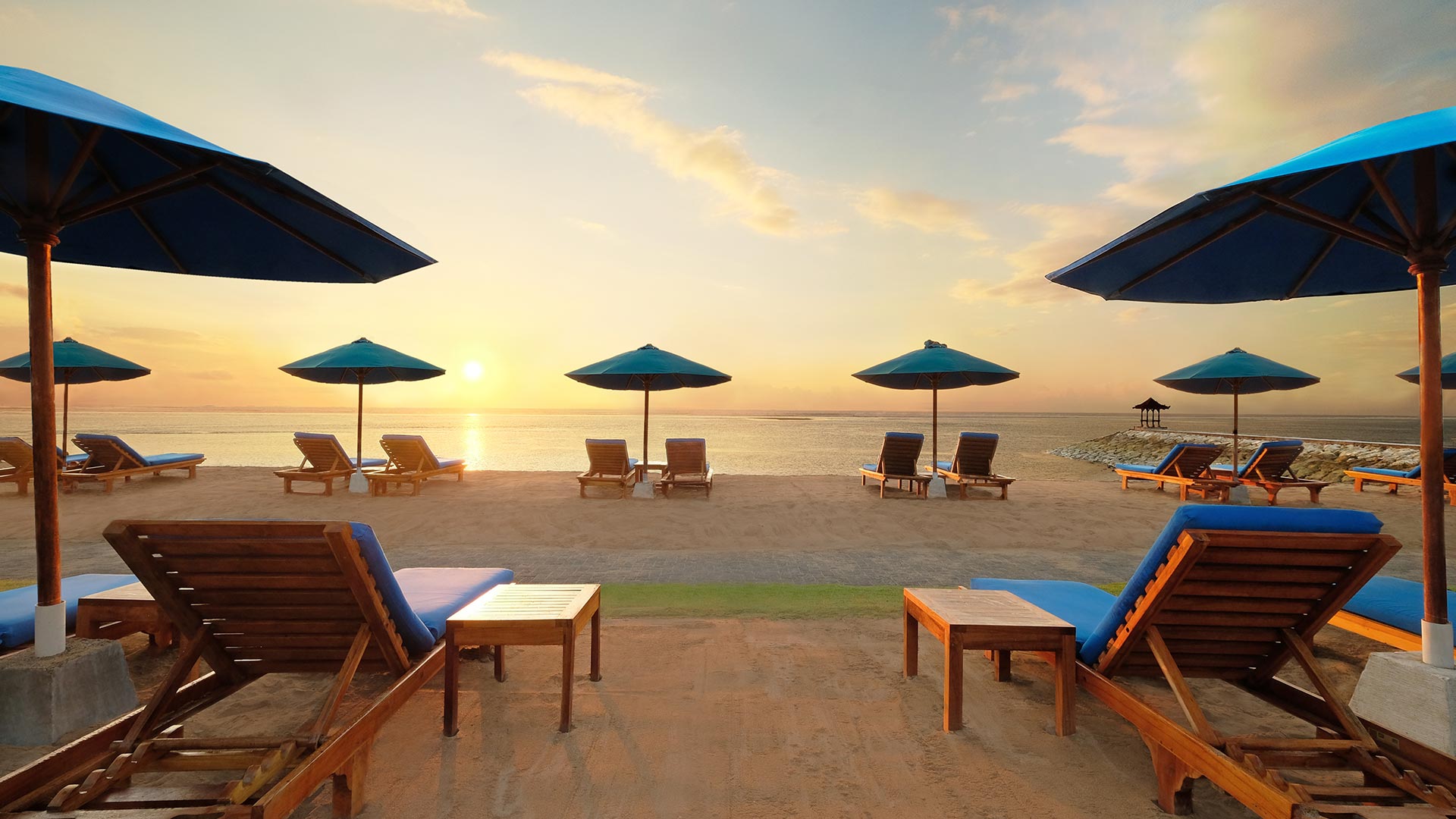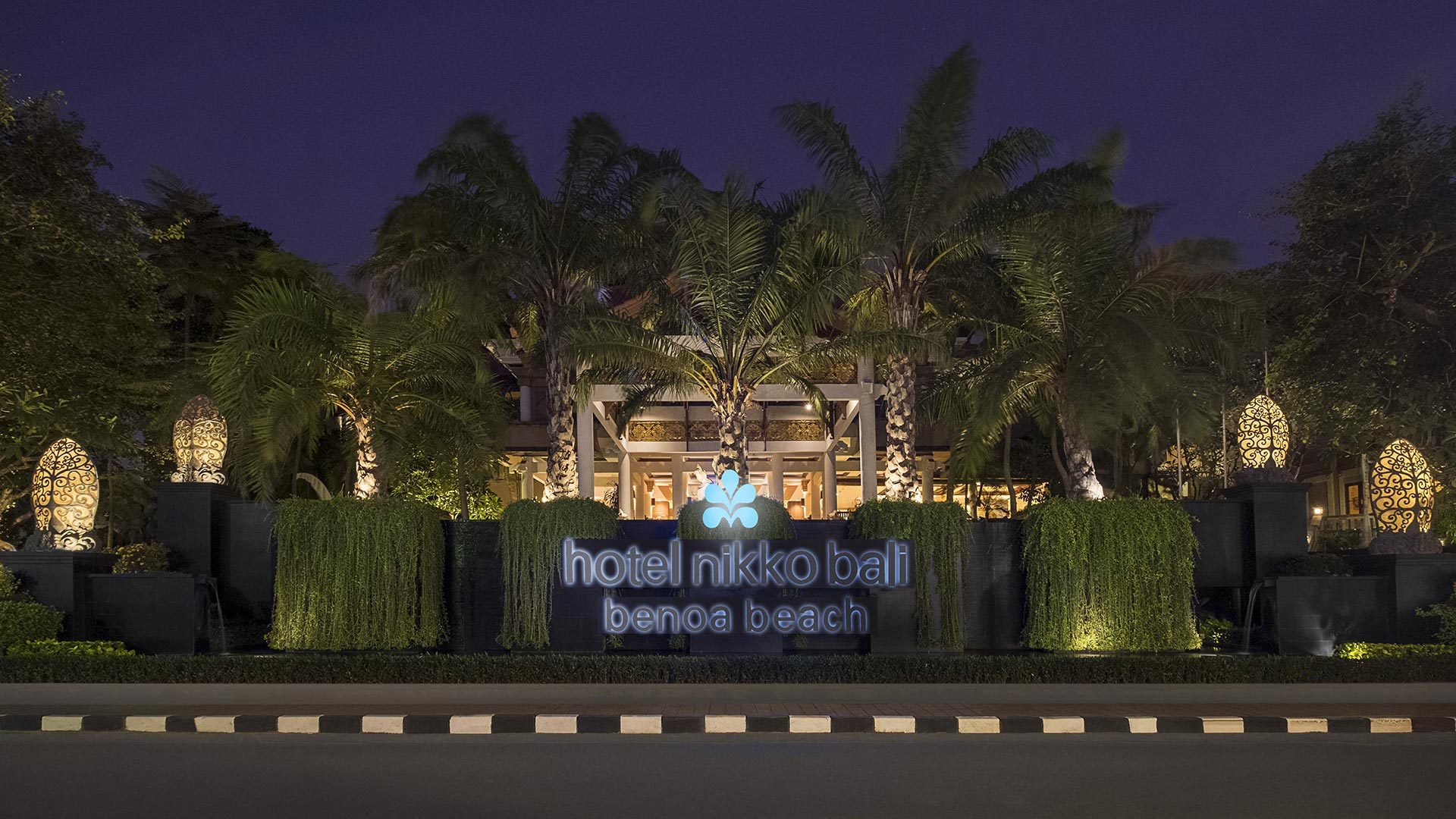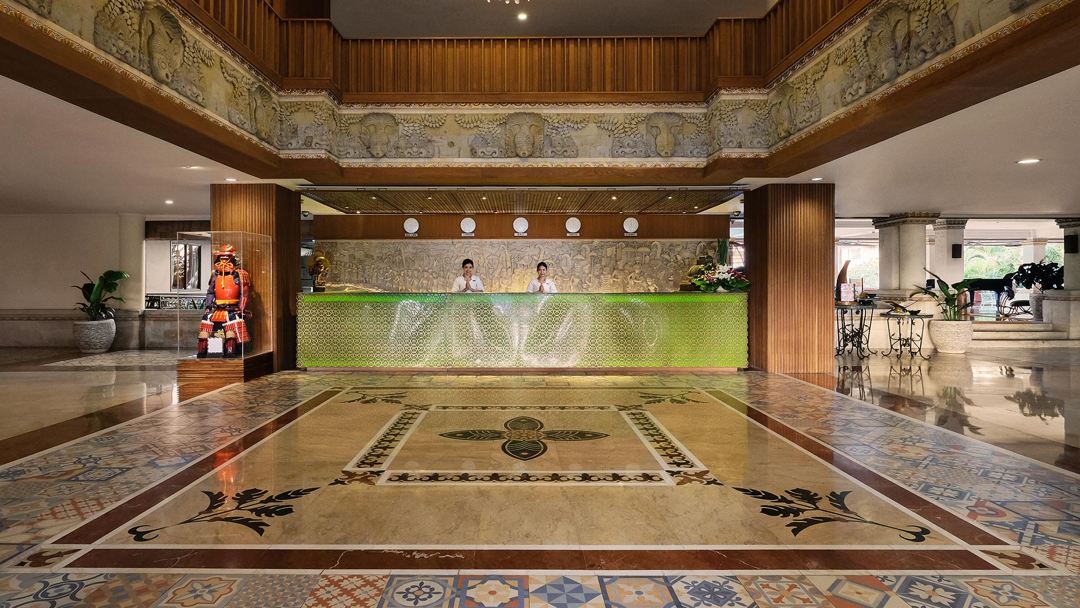 An Ideal Retreat to Escape and Unwind
Our Story
Hotel Nikko Bali Benoa Beach, Tanjung Benoa, Nusa Dua, Bali, is an affordable beachfront hotel resort, an ideal retreat to escape and unwind.
Set amid expansive tropical greenery in the enclave of Tanjung Benoa, Hotel Nikko Bali Benoa Beach is designed for pleasure and relaxation, where Japanese hospitality is an absolute standard with Balinese-style architecture key in it's 188 elegant rooms and suites harmonize perfectly with nature.
_______
We have partnered with Diversey, a world leading company specialized in professional cleaning and hygiene solutions, to develop and implement a new Cleanliness, Health, and Safety Program for our hotel operations with some changes in services.
In addition, our hotel has received Cleanliness, Health, Safety, and Environmental Sustainability Standards certification from the Ministry of Tourism & Creative Economy and our hotel employees have been fully vaccinated against COVID-19 on 23 & 24 May 2021.
LEARN MORE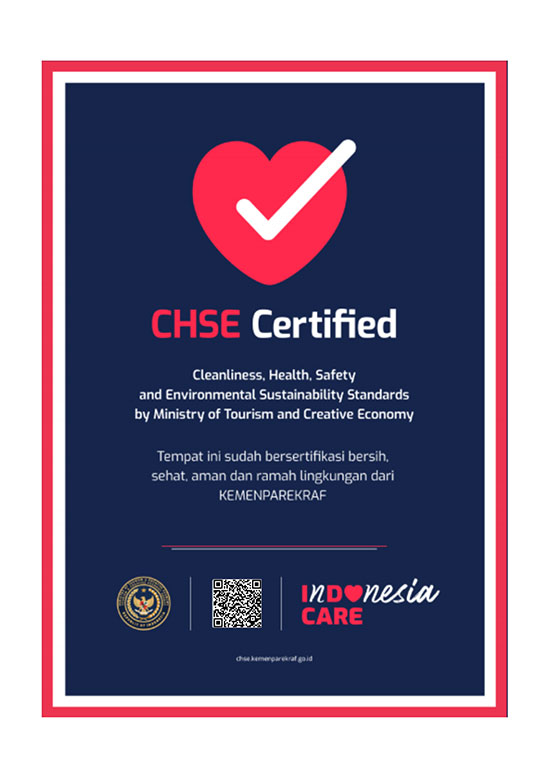 Special Offers
Hotel Nikko Bali Benoa Beach offers a variety of attractive offers and exclusive benefits for direct booking. Find the best option for your upcoming holiday with us.
EXPERIENCE
An affordable & ideal retreat to escape and unwind
Experience
Hotel Nikko Bali Benoa Beach is an ideal retreat to escape, unwind, and enjoy peace of mind. Enrich your experience through the pampering services we provide throughout your stay and start creating joyous memories with your loved ones.
One Harmony
Welcome to One Harmony
Start Earning Point Today
Earn points each time you stay with us. privilege exclusive only to members, no annual fees.
JOIN US NOW
Interesting Places Around Us
Besakih Temple

Mount Batur

Amed Beach

Munduk Waterfall

Lovina Beach

Tanjung Benoa Beach

Dreamland Beach

Bali National Golf Club

Waterbom Bali Indonesia

Legian Beach

Sanur Beach

Mertasari Beach

Turtle Island

Mall Bali Galleria

Beachwalk Shopping Center

Discovery Shopping Mall

Trans Studio Mall Bali

Level 21 Mall Denpasar

Taman Bhagawan

Batara Dive & Watersport

Perfect family resort
A group of 35 of us stayed at the Nikko and we all loved it. The staff were so nice and were always there to help. The kids loved the kids play room and all us adults loved the enormous pool and bar. It is located perfectly near all local shops and on the beach. If you want the perfect resort in Bali, this is the one. Thank you Nikko resort
READ MORE
Johnny L

It is a fantastic experience for us. We will not forget it.
Everything was supper good. Nice breakfast, clean room, good service, good location to stay and visit in Nusa Dua. Nusa Dua also is very popular touristic place, you can visit many places in there. The hotel helps you to arrange tour,hire a taxi,shuttle service. We stayed in family suite and our children who are 3 and 6 yrs old enjoyed too much at the hotel.
READ MORE
Emre, India

Pelayanannya ramah, baik dan responsif.
Pelayanannya ramah, baik dan responsif.
READ MORE
Anwar S.

Lovely relaxed and quiet resort
A group of 25 of us just left after 7 days at the Nikko and we had a fabulous stay. The hotel was very accommodating to us as a large group and even thanked us for spending time and money at their bar and restaurants. It is a quiet hotel that is perfect for a relaxed stay. The hotel grounds are immaculate and the pool enormous and very clean, they staff happily blew up large pool floats for our children to use whilst staying! The front desk staff, housekeeping, bar staff and morning breakfast staff where all so lovely! I highly recommend the breakfast!!! Such a vast variety of different foods (including an omelette station) that changed daily and situated with views of the ocean. Water sports can be booked there and the hotel has taxis that you can use for 5hrs at a small fee. The rooms are huge and they conveniently have joint rooms for families. Thank you Nikko we really enjoyed our stay.
READ MORE
Narelle M, Australia

We will come back!!!
We enjoyed the wonderful breakfast! It was for all people, perfect. European, Indian, American, Asian breakfast. Enough sunbeds, a wonderful huge pool with a bar inside. The stuff was very helpful and everytime friendly! Every day they cleaned the beach. I can recommended the wonderful "Bali night" from the hotel at fridays. A great and delicious Bali buffet and wonderful dancers with a combo! In the opposite from hotel are also cheap and nice restaurants. We will definitely come back!!!! Thanks for this wonderful stay!
READ MORE
Chrismos3, Germany

Exellent
Superb friendly staff in all areas of the Resort. Very good and varied breakfast. Lovely spacious rooms. Good size lagoon pool. Would definitely visit again.
READ MORE
Jack, Attleborough

1st Bali Holiday -Wonderful Experience
We had 5 fantastic days at the Nikko. Having travelled overseas over many years as well in NZ and Australia, we were so pleased with the quality of service, accommodation and facilities at the Nikko. It was refreshing to experience the professionalism, friendliness and attention to detail of the staff. This was consistent across the staff and not the exception. The maintenance of the grounds and pool area was undertaken daily, even scooping up the Frangipani flowers multiple times a day. Pot plants in the hotel are cleaned daily. We dined in all three restaurants. Being from Italian heritage Giorgios pizza was one of the best we have had in a long time. Nagisa Japanese was a lovely experience. We ate at Bali Luna three times and was good value for money. The tuna sandwich was especially great. The massage facility was clean and the service professional,and great value for money. We highly recommend the Nikko for special and quality holiday!
READ MORE
Frigenti

Exceptional
Hotel and facilities very good. Pool and associated beach very clean. Several local restaurants reasonably priced and very friendly. Buffet breakfast at hotel excellent and staff smiling and friendly/helpful.
READ MORE
Ian, Australia

My first solo holiday was nothing short of brilliant.
My first solo holiday was nothing short of brilliant. This is the property for you if you want a quiet holiday with access to the most amazing restaurants. Happy hour by the pool is great and I loved that it included fresh coconuts. The room was fantastic and very clean! The amenities were great - even the gym which I was using in the mornings. The on site spa is divine - thank you for the discount on arrival. A special mention to Giorgio's (Italian) and Nagisa Izakaya restaurants (Japanese). Both of these restaurants used the freshest produce and I enjoyed my two times dining at each. Could not fault the service or food - it was AMAZING. 10/10 for Hotel Nikko - thank you I hope to be back again soon
READ MORE
Anonymous

Home away from home
We stayed in Nikko Hotel Benoa for the 2nd time end of May 2019. Already booked for May 2020.. why ? Because we loved it !! Every one always makes us feel so welcomed and comfortable. Its not a huge property, structure and architectural reminded me of my good old days when I used to live in Indonesia. Pool bar, breakfast buffet, Giorgio, Nagisa Izikaya, the spa, yoga class, of course the pool and the beach.. all are awesome !!! Yes there are a bit of pieces that could use some updating but compare to other hotels and locations that we've stayed in Bali, we definitely can say : we love it here Easy stroll to other resto for culinary adventure. Love the sunrise! Highlight would be some of the staff members remembered us from the previous year's visit. How can we not love this place ? Thanks for the always pleasant stays and looking forward to see you again next year
READ MORE
Luisa K, Australia
FLASH SALE
Save more on Flash Sale from IDR 850,000 net per room per night inclusive daily breakfast and enjoy extra benefits free water sport activity (Banana Boat, Donut Boat, Jet Ski), Balinese Massage, Return Airport transfer for stay minimum 2 nights or more.
Join One Harmony membership and enjoy exclusive benefits!