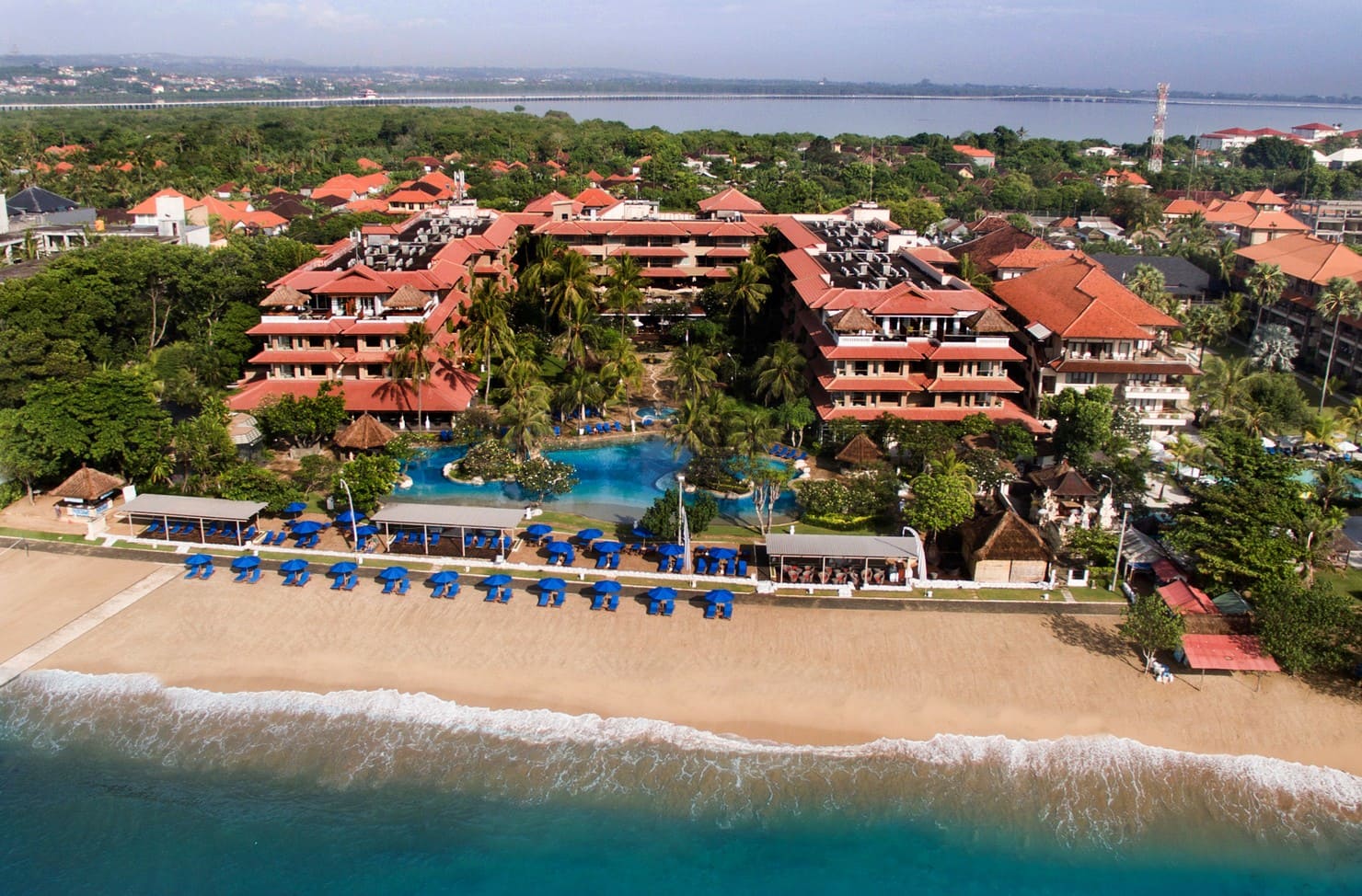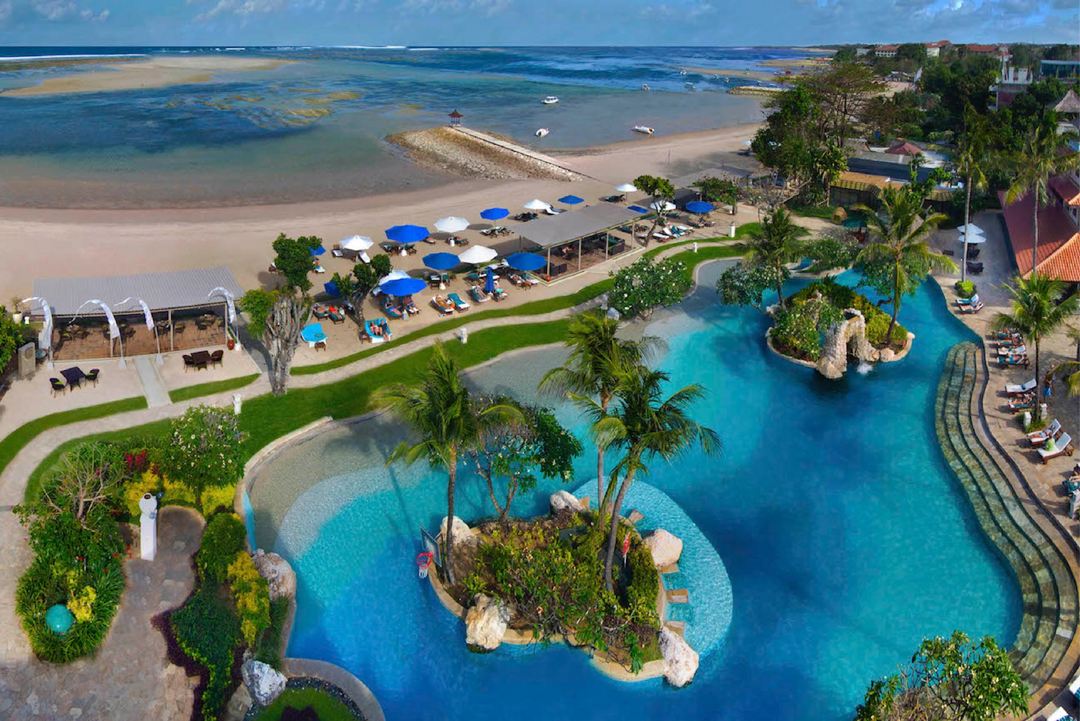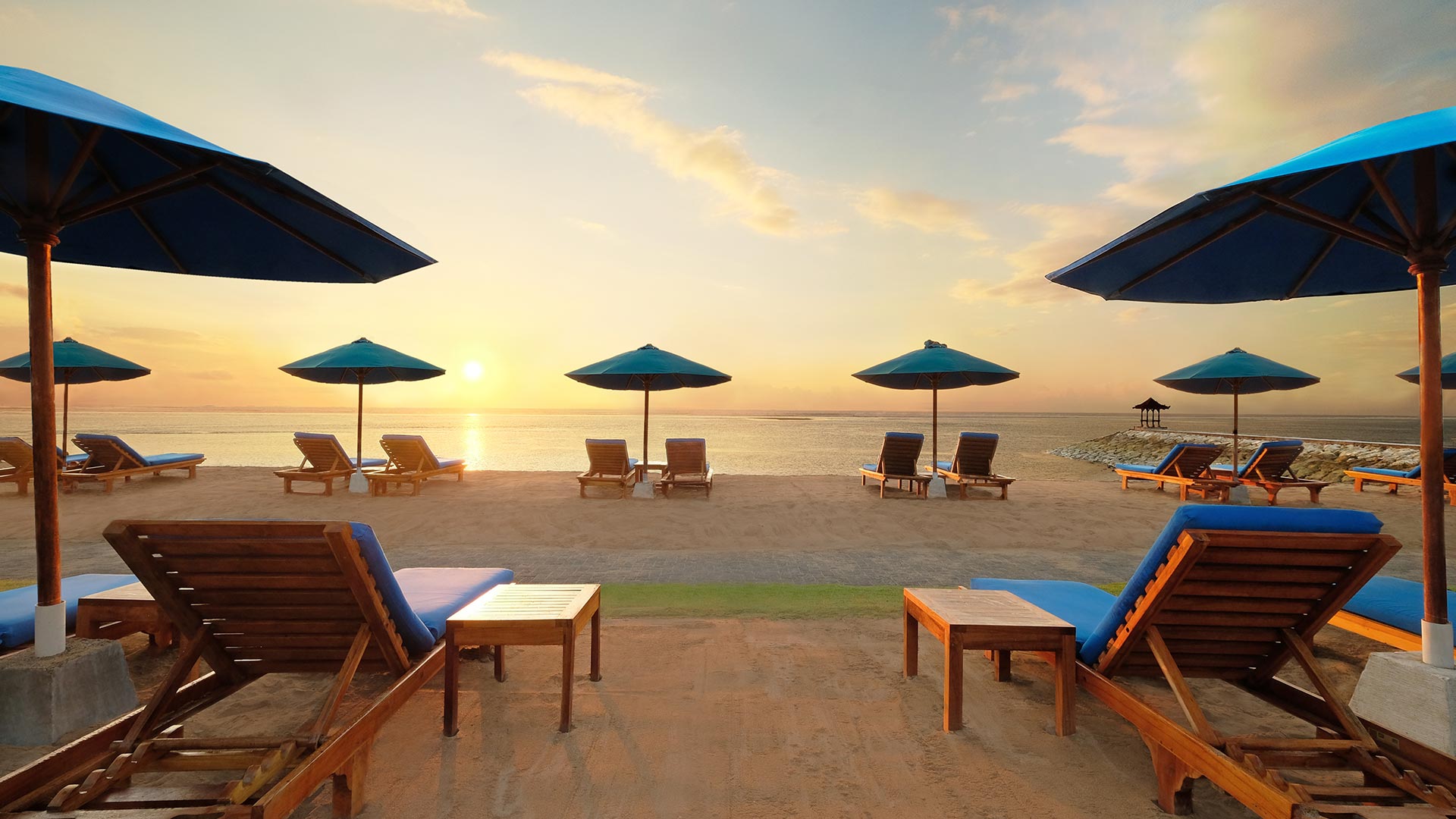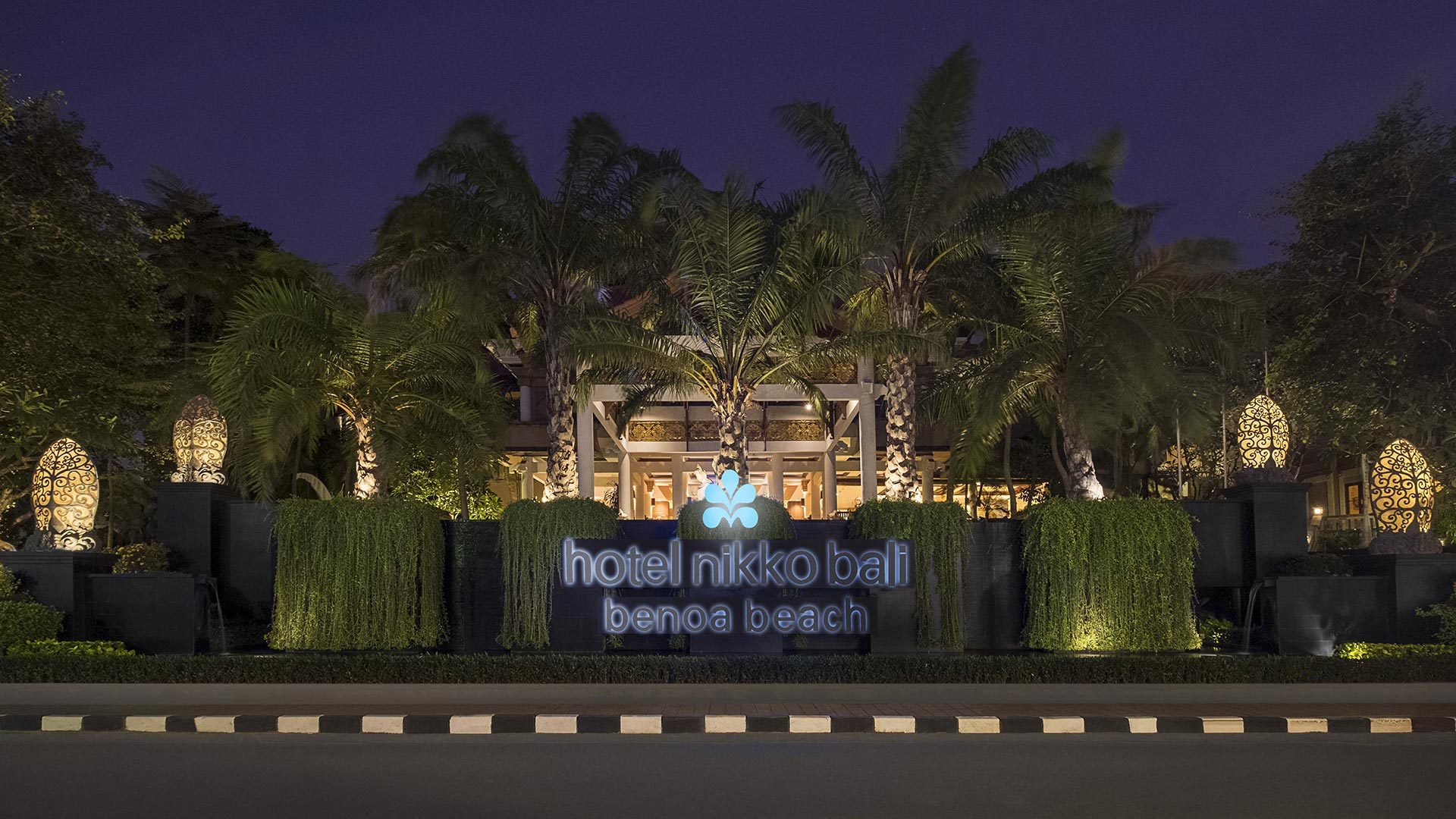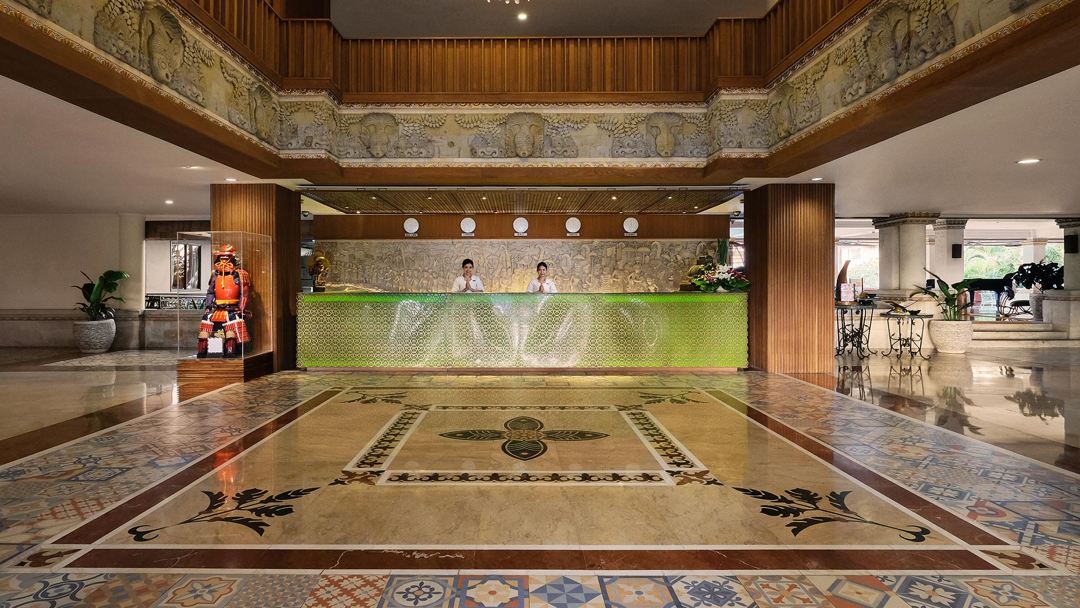 An Ideal Retreat to Escape and Unwind
Our Story
Hotel Nikko Bali Benoa Beach, Tanjung Benoa, Nusa Dua, Bali, is an affordable beachfront hotel resort, an ideal retreat to escape and unwind.
Set amid expansive tropical greenery in the enclave of Tanjung Benoa, Hotel Nikko Bali Benoa Beach is designed for pleasure and relaxation, where Japanese hospitality is an absolute standard with Balinese-style architecture key in its 188 elegant rooms and suites harmonize perfectly with nature.
_______
We have partnered with Diversey, a world-leading company specializing in professional cleaning and hygiene solutions, to develop and implement a Cleanliness, Health, and Safety Program for our hotel operations with some changes in services.
In addition, our hotel has received Cleanliness, Health, Safety, and Environmental Sustainability Standards certification from the Ministry of Tourism & Creative Economy and our hotel employees have been fully vaccinated against COVID-19.
LEARN MORE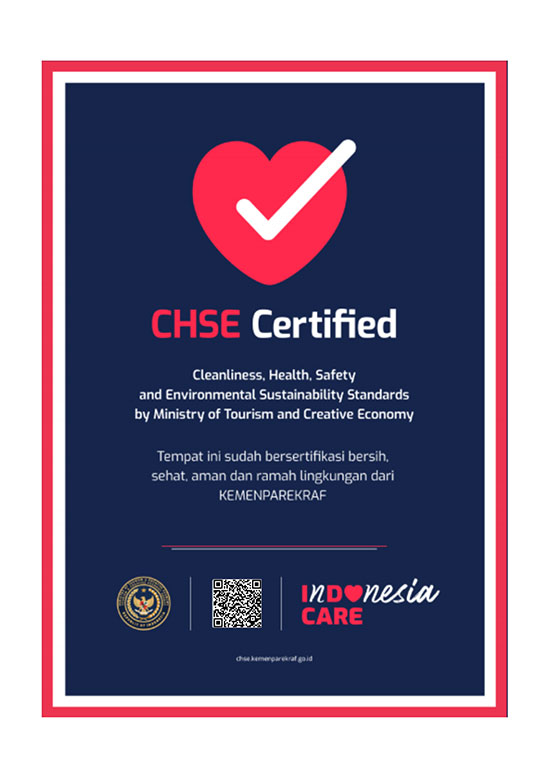 Special Offers
Hotel Nikko Bali Benoa Beach offers a variety of attractive offers and exclusive benefits for direct booking. Find the best option for your upcoming holiday with us.
EXPERIENCE
An affordable & ideal retreat to escape and unwind
Experience
Hotel Nikko Bali Benoa Beach is an ideal retreat to escape, unwind, and enjoy peace of mind. Enrich your experience through the pampering services we provide throughout your stay and start creating joyous memories with your loved ones.
One Harmony
Welcome to One Harmony
Start Earning Point Today
Earn points each time you stay with us. privilege exclusive only to members, no annual fees.
JOIN US NOW
Interesting Places Around Us
Besakih Temple

Mount Batur

Amed Beach

Munduk Waterfall

Lovina Beach

Tanjung Benoa Beach

Dreamland Beach

Bali National Golf Club

Waterbom Bali Indonesia

Legian Beach

Sanur Beach

Mertasari Beach

Turtle Island

Mall Bali Galleria

Beachwalk Shopping Center

Discovery Shopping Mall

Trans Studio Mall Bali

Level 21 Mall Denpasar

Taman Bhagawan

Batara Dive & Watersport

Ngurah Rai International Airport

Home away from home
We stayed in Nikko Hotel Benoa for the 2nd time end of May 2019. Already booked for May 2020.. why ? Because we loved it !! Every one always makes us feel so welcomed and comfortable. Its not a huge property, structure and architectural reminded me of my good old days when I used to live in Indonesia. Pool bar, breakfast buffet, Giorgio, Nagisa Izikaya, the spa, yoga class, of course the pool and the beach.. all are awesome !!! Yes there are a bit of pieces that could use some updating but compare to other hotels and locations that we've stayed in Bali, we definitely can say : we love it here Easy stroll to other resto for culinary adventure. Love the sunrise! Highlight would be some of the staff members remembered us from the previous year's visit. How can we not love this place ? Thanks for the always pleasant stays and looking forward to see you again next year
READ MORE
Luisa K, Australia

Great Value For Money
I stayed for 2 nights from January 3rd but wish it was for longer. Everything was perfect from the friendly check in to the room cleaners and especially the nice food for breakfast with a huge selection catering for many nationalities.The room price for a deluxe seaview room was a good price when you compare it to other hotels of a similar quality in Tanjung Benoa.The location was also good with many restaurants etc. and mini supermarkets just a couple of minutes away.The bed was huge and comfortable and good hot water pressure all the time.The view from the room was nice overlooking the pool area and the nearby ocean. I'm looking forward to my next stay.
READ MORE
Bruce, Australia

It was a nice break from the villas we were staying at.
I liked the restaurant and amenities at Hotel Nikko. It was a nice break from the villas we were staying at. It was nice to have a day not having to scooter around just to eat good food.
READ MORE
Anonymous

GREAT!!
Just returned from staying at the Nikko and all I can say is wonderful!! Rooms are clean and comfortable, staff are friendly and accommodating. Would definitely stay here again and recommend anyone to visit the Nikko. Thank you for a wonderful stay 💗
READ MORE
Lourdes C

Superb 7 Night Stay
The Nikko is well located about 20 mins from the airport in the heart of Tanjung Benoa surrounded by convenience stores and a few restaurants. One we liked in particular was the Queen of India. We also ate at the hotel, the Italian restaurant was very good as was the beach front restaurant and well priced. Our Ocean View Premier Suite was superb. Loved the size of the room, the big bath and toiletries. The best view in Bali. Excellent buffet breakfast, catering for all nationalities. Egg station was brilliant and great coffee. The Pool was lovely and deep and the swim up bar was well stocked and had a great happy hour from 3pm to 7pm. My only disappointment was the pool doesn't open until 8am and at home I lap swim every morning before breakfast for 90 mins so my routine went out the window but apart from that I loved the hotel. We are planning to come back for our wedding anniversary next year. We are seasoned Bali travellers as we come to Bali for around 8 weeks a year and we highly recommend the Nikko Hotel.
READ MORE
Clare, Australia

What an awesome place…..
What an awesome place.....friendly clean and just beautiful. We stayed in the family suite.....book it and enjoy one of the best locations that I have stayed at. The room is superb....view unbelievable...staff are gorgeous....we went forv8 days and we just got back and my family want to go back already. Just supurb6
READ MORE
Anonymous

Perfect way to start our Honeymoon
We stayed at the Hotel Nikko for 2 nights at the beginning of our honeymoon in Bali. On arrival the greeting we received in the grand lobby was very inviting and the welcome drink was refreshing. We were super lucky to receive an upgrade to the ocean front suite and wow wasn't it amazing. From the ample lounge space, huge bathroom with beautiful views from the bathtub and the most comfortable bed our stay was amazing. We enjoyed drinks at the swim up pool bar, breakfast had a great range of choices and we dined several times at their Bali Luna Restaurant which I reckon had the best Nasi Goreng I had in Bali! We chose to pre-book a romantic beach dinner and we were not disappointed, the set up was stunning and very romantic for our special trip - the steak the prepared for our main was to die for! We were treated to a 1 hour Balinese massage and the spa was very professional and very relaxing and the gym was small but had all we needed and a great view! All in all we had a fantastic stay at this resort and would definitely recommend and come back - Loved it!
READ MORE
Christine Roko

One of the best hotel
The hotel is lovely, n all the facility in the hotel is great. Who ever stay u should try the spa. It's AWESOME!!! 😊😊😊
READ MORE
Calvin, Indonesia

Absolutely fantastic hotel for our arrival in Bali.
Absolutely fantastic hotel for our arrival in Bali. The staff made us feel so welcomed.
READ MORE
Anonymous

Amazing hotel
We had a special request for a seaview room and it has accomplished. The staff is very friendly! All of them ! The breakfast is Simply the best. Big selection and excellent quality. The coffee is really good. The pool amazing! Many thanks to the staff of this hotel. You're doing your job perfectly!!!
READ MORE
Basilio K, Germany